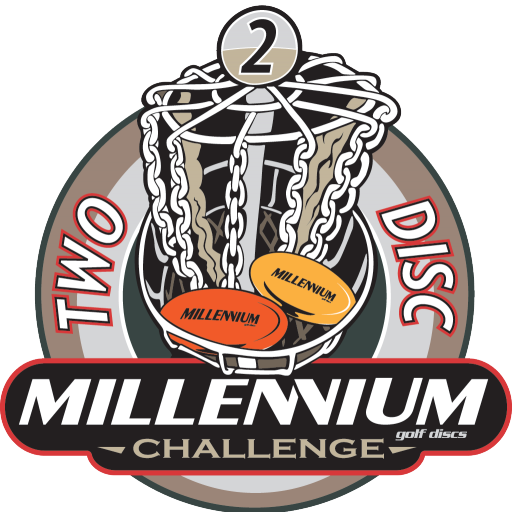 2-Disc Challenge
The Millennium 2-Disc Challenge is a beginner-friendly disc golf tournament designed to introduce Millennium Golf Discs to players who haven't had the chance to try out many of the models offered by Millennium. It is intended to be a fun and educational experience. While competitive players are more than welcome to participate, the intended audience is recreational players, leagues, and clubs who want to learn more about Millennium discs. For the price of entry (which is less than the price of two discs) each player receives a player's pack of 2 Millennium Golf Discs. Each player must compete using only these two discs in addition to their own putter for the entire round. The only other rule is that one of the two discs from the players pack must be used from the tee pad.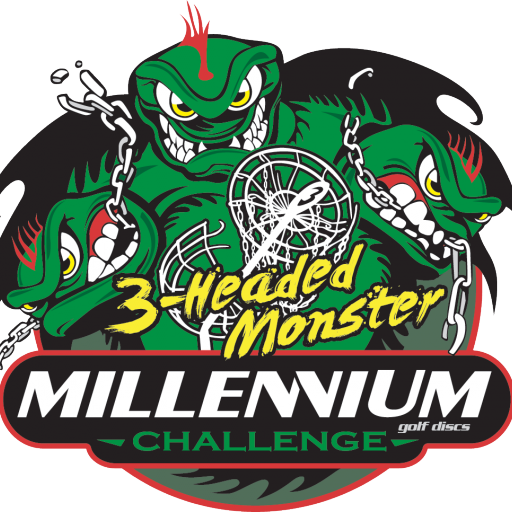 Three-Headed Monster
This is the most unique format of play in the Millennium Challenge, and perhaps one of the most fun team-formats in Disc Golf. This format consists of 3-person teams competing against each other in both skill and strategy. The team with the lowest score wins…but it takes a team effort. Each team must take 6 drives from each player in a round of 18 holes. And when a player's drive is selected, this player sits out the remainder of that hole while his or her other two teammates finish the hole in "best shot" format. After a player's 6 drives are taken, they can no longer drive from the tee pad. Be calculated about when and why you select the drives that you do, because this competition all comes down to the final few holes, culminating with a one-shot-only drive from the 18th tee pad.
Each team will be assigned by random-draw process facilitated by the Tournament Director and will be composed of an A-pool, B-pool, and C-pool player – based on scores from a Singles round. A Millennium Golf Disc must be used as each player's drive. Choose wisely and play smart as a team to come out on top!
REGISTER ONLINE TO PICK YOUR DISC MODEL, PLASTIC AND WEIGHT FOR THE PLAYERS PACK.
Registration closed midnight 9/10 to allow for players packs to be packed and shipped in time for the event.
EVENT DETAILS
2 rounds at Sanders Memorial Disc Golf Course. First round will be Singles competing with 2-discs from players pack + your own putter. The 2nd round competition is among 3-person teams. A, B and C pool players will be determined by first round scores and teams assigned at random. Each team in the 3-Headed Monster will consist of an A, B, and C pool player, and players will compete using their own discs, but a Millennium Golf Disc must be used off the tee for all players. See the FORMATS tab of this event for more detail on the format of play.
PLAYER PACKS:
The event comes with 2 discs included in the price of registration. Each player chooses his/her discs, plastics and weights for the event during the registration process. Your individualized two discs will be packaged and available for pick-up during registration. A limited number of discs will be available for walk-up registration, but by registering in advance you can pick the model, weight, and plastic of your choice to best fit your style of play and the course of competition. Choose your Division and "Choose Discs" to get started.
SCHEDULE:
Check in 8:00 - 9:00
9:15 players meeting
9:30 first tee
11:30 lunch break (bring your own lunch, or be back in time for players meeting)
12:30 players meeting
12:45 2nd round
DIVISIONS:
Open/Advanced
Intermediate
Women
Recreational
PRIZES/AWARDS:
Merchandise prize packs will be awarded to top finishers in each division for the Singles event, and for the top team finishers in the 3-Headed Monster event. The number of places awarded per division and values will be based on the participation level in each division (the more participants, the greater the prize pool and more places awarded).
FUNDRAISERS:
Mulligans 1 for $3
2 for $5
All mulligan money goes to the directly benefit the Anderson Disc Golf Club.
QUESTIONS
Contact TD, JOHN DOE xxx-xxx-xxxx or [email protected]