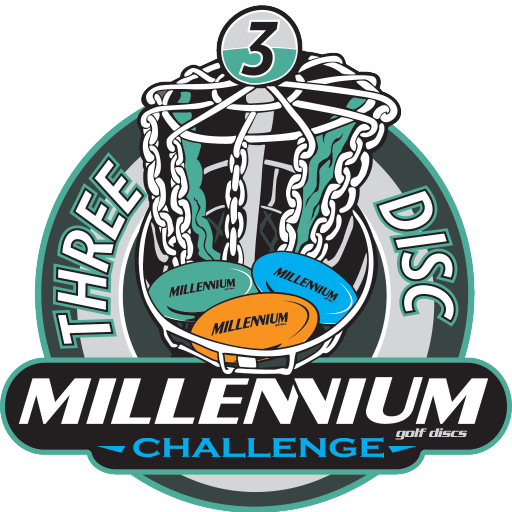 3-Disc Challenge
The Millennium 3-Disc Challenge is a beginner-friendly disc golf tournament also designed to introduce Millennium Golf Discs to players. It is intended to be a fun and educational experience. For the price of entry (which is less than the price of three discs) each player receives a player's pack consisting of three Millennium Golf Discs of the player's choice. Each player must compete using only these three discs for the entire round.
Registration closes midnight June 30th
Four Divisions: Rec, Intermediate and Advanced/Open, Women's
EVENT FORMAT A 3-disc Singles Event will be played in divisional competition. Players must compete ONLY with the 3-disc players pack discs. Players will be able to choose three discs during registration so you can select the discs you want, and the weights you want. So be sure to choose a putter, and the best Millennium discs to fit the course and your game.
Your players pack will be available for pick-up at registration.
SCHEDULE FLEX START 3pm - 6pm Check in and redeem your players pack anytime during this time frame.
COURSE Grubaugh Park. 1101 N. 10th Ave Ozark, MO 65721
PRIZE-OUTS You're already winning by just participating as the cost of the registration is lower than the price of the players pack! Merchandise prize packs will be awarded to top finishers in each division. Places per division and values will be based on participation level in each division.
QUESTIONS Contact TD, Conner Brooks 417-464-8089 or connercbrooks@gmail.com
| Name | Division |
| --- | --- |
| Cody Terrell | Intermediate |
| Mike Morelock | Intermediate |
| Seth Lindeman | Intermediate |
| Alan Robinson | Recreational |
| Curtis Carnal | Recreational |
| Daniel Routh | Recreational |
| Denny Kirkpatrick | Recreational |
| Dylan Hansen | Recreational |
| James Montejano | Recreational |
| Jeff Jones | Recreational |
| Joel Winslow | Recreational |
| Joseph wehlage | Recreational |
| Kent Whisler | Recreational |
| Luke Daugherty | Recreational |
| Conner Brooks | Open/Advanced |
| Jerrod Harmon | Open/Advanced |
| Jesse Vahsholtz | Open/Advanced |
| Michael Pfeifer | Open/Advanced |
| Ray Presnell | Open/Advanced |